Women's Rights Committee celebrate: Mary Quaile Activist, Agitator and Trades Unionist – Wednesday 18 January 2017
Date and time of event:
Wed 18 Jan 2017 –

17:30

to

19:30
Venue and town/city:
TUC Congress House, 23-28 Great Russell Street, London
About this event: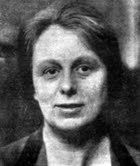 Unlike the Pankhurst's and Mary Wollstonecraft, Mary Quaile's life reflected the experience of many millions of working-class women at the beginning of the 20th century. Leaving school aged 12, she took up unskilled work as a domestic and cafe worker.
But she grew up at a time of great change for working-class women. Locally and nationally, the Suffragettes were breaking all the rules about how women should live their lives. A burgeoning trade union movement, with activists such as those striking at the Bryant and May Factory, were demanding equality and justice.
Mary Quaile was part of this new trade union movement, which saw a growing number of women refusing to accept low pay and poor conditions. She went on to become a prominent member of organisations such as the Manchester Trades Union Council and the General Federation of Trade Unions (GFTU) and in the 1920's she was elected to the General Council of the TUC, one of the first women to be elected to the Council.
SERTUC's Women's Rights Committee invite you to our meeting to be held on Wednesday 18 January 2017 our guest speaker will be Bernadette Hyland, a frequent contributor to the Morning star and co-author of 'Dare to be free – women in trade unions'.
The meeting will be held at Congress House at 17:30 hours.
ALL ARE WELCOME TO ATTEND 
Information about the venue:
Congress House is a full accessible building.
Contact for further information: